Costumes and candies are great. However, there's more than one way to make sure that you and your kids are able to appreciate the Halloween season. Luckily, if you are looking for new ways on how to make the Halloween season more exciting for your kids, you came to the right place. In this post, we have listed some additional exciting Halloween activities that your kids will surely love before and after the night of trick or treat.
Pumpkin Decoration
Decorating pumpkins is one great activity in order for your kids to develop fine motor skills. You can paint or carve pumpkins with them. And, if you have time, you can actually save the seeds as well as innards of the pumpkin so you can bake pumpkin bread or make toasted pumpkin seeds later.
Corn Mazes
This can easily become a tradition for your family and close friends every fall. Simply stay in a group and then get lost together weaving through some tall rows of fresh corn. This is also a good way for your kids to exercise their leadership, memory and problem-solving skills too. To make the children more involved in this game, let them take turns in leading the group.
Haunted Houses
Haunted houses can be lots of fun the moment you let the children plan and do their own unique version. All you have to do is to set rules about the equipment, props, as well as cleaning up process afterwards and then allow your kids some free time in order to make their own haunted house. Let the children think through the path which their visitors will take and then space out some spooky aspects in there. If making a haunted house concept is scary for your kids, then you can actually make a fall fun house that displays scarecrows, pumpkins, as well as other decorations with fall theme. You can then gather your neighbors as well as other adults to enjoy the fun.
Scavenger Hunts
This can be a really great adventure for children. Get creative and create a scavenger hunt for your children this Halloween season. Have a partner or a friend hide and be the treasure that the clues lead to. Simply divide into groups so that no one will run alone in the dark. If young children will join the game, make sure to assign a grown-up captain every time you're playing.
WerewolfTag
Werewolf tag is an outdoor game that happens after dark and is done by playing hide and seek tag. There are a lot of names for this simple yet fun game. Make sure to establish boundaries right before the game starts. If younger children will join, consider breaking into pairs to hide. The moment the people hiding have been suspect they've been spotted or found, then the chase is on. In this game, no one is considered officially out until they are tagged. When someone has been tagged, they then join the werewolf so there is more than one seeker. In the end, there will be a whole pack of werewolves.
Flashlight Tag
Also, there's a great much simpler alternative if the Werewolf tag is a bit too scary for your children. You can play tag at night; however, participants carry flashlight this time so that they can be seen as well as can see around them.
Costume Report
This means doing something just like a book report but it covers a spooky Halloween costume instead of a book. Once your child is dressing up as a famous character or person, you can help them read as well as watch information on this certain type of character or person and let them prepare a short oral report that they can present in class, for family members, or at show and tell. If your child likes to dress as a thing or an animal, then they can do some research about it and help them prepare a report. He or she can also include the reason why they prefer to dress up as this animal or character. Certainly, a small presentation activity like costume report will help your little one practice their communication skills.
Lantern Making
This is an enjoyable crafting idea and also a great way to decorate or spice up your Halloween or trick or treat party. Simply take some white or brown paper lunch bags and then cut some fun designs and shapes into them. You can then put some sand into the bottom part of the bag and then place a led candle that is battery-operated in its base.
Trick or Treat Bag Making
You can spend a really exciting fun fall afternoon with your kids creating unique trick or treat candy bag that he or she can use during the Halloween season.
The materials needed in making this craft are:
Halloween colored paints
Canvas tote bag (often sold at local art and craft stores)
Paper plates
Paintbrush
Decorative materials like felt, wiggle eyes, buttons, glitters, etc.
Scissors
Newspaper
Fabric glue
Simply lay the newspaper over the area where you will work. It will protect your floor from any spills of paint. Pour some paint on the paper plate. You can have your kids decorate the bag with fun paintings of black cats, witches, ghosts and pumpkins with the use of paintbrushes, handprints or fingers. You can also add any other decorative items or designs on the bag. Once you're done decorating the trick or treat bag, let it dry completely before you fill it with Halloween treats. This is a really great way in helping your children enhance their creative side.
Halloween Treats
It's the season for goblins and ghosts! For a more exciting and delicious party treat, your kids will surely love making this unique and creative festive Radioactive Punch. Here's how you do it:
Things you need:
Latex gloves
Blue KOOL-AID
Orange Juice
Food coloring (optional)
Simply fill gloves with juice or water tinted with a bit of food coloring and make sure that you secure the openings using sturdy rubber bands. Leave it on the freezer overnight. After that, mix liquid ingredients in order to create some radioactive shades of red or green. You can then remove the gloves from the freezer but you have to run them under warm water right away. Carefully peel off the latex gloves and let the frozen hands float in a punch bowl where you put the liquid ingredients.
Walk on the Hat of the Witch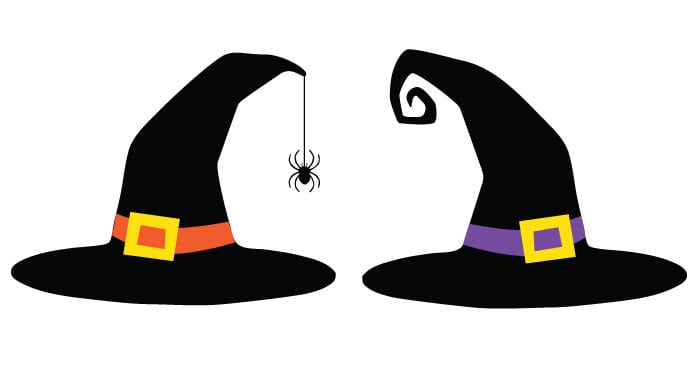 This party game for the Halloween season is quite the same to the Trip to Jerusalem or Musical Chairs game that kids really love. Beware! You do not want to be the one that's caught on the hat of the witch.
Game Directions
Simply tape a large photo or a drawing of a hat of the witch on the floor
Players then line up and then shut their eyes. Make sure that whoever peeks will be out of the game.
The players need to form a circle and once the music starts to play, the players will begin walking around while staying in the circle which is around the witch's hat.
The moment the music stops, the player who is standing on the witch's hat will be out of the game.
The winner of the game is the last man standing.
Bowling for Pumpkins
Bowling with gourds and pumpkins is considered as a great party or family activity that will also help your children a lot when it comes to developing fine motor skills. Simply look for gourds that have bottle-like shapes for a more authentic bowling experience. Here are the materials that you need for this game:
Materials:
Masking tape
Five small dried gourds
One or two small round pumpkins
Simply set up the bottle-shape gourds like bowling pins and stick a masking tape to the flooring in order to create a start line. Bear in mind that this line must be a bit closer to the gourds since the pumpkins won't roll too far. You can then show your children how to properly roll the pumpkins in order to knock down the gourds. You should not worry about keeping score this time.
These fun and creative Halloween activities are really great for all ages. You can keep your children as well as their friends spooked and entertained this Halloween season. However, it is very important that you modify these activities depending on your child's ability or age. Parent supervision is also highly necessary for every activity we have listed above. You can also talk to your kids about safety precautions during the Halloween season or in every party they attend to in order to make sure that you will all have a lot of fun, exciting and memorable Halloween season. Certainly, when you have lots of activities to do this Halloween season, you will not only provide happiness to your children but it can also help them develop their skills and talents through crafts, games and highly engaging activities.